Kitchens Revitalise | Restore | Renovate
From keeping existing cabinetry and replacing only the necessary components to an entire kitchen renovation, we project manage the entire process, guaranteeing a quality finished result on time and to budget.
Our initial consultation is about listening to you, we are interested in your plans, ideas and ultimate vision for your kitchen and from there we identify the best working combinations to provide a tailored solution that incorporates design, functionality, budget and time schedules.
From fresh whites to bold brights, your colour choices are endless. When choosing your cabinet colours keep in mind your design style, the size of your kitchen and how many cabinets you have.
Since your cabinets will usually take up most of the space, many designers recommend choosing this colour first, then deciding the rest afterwards. We are on hand to help and if you require further inspiration and advice we will introduce you to our design experts.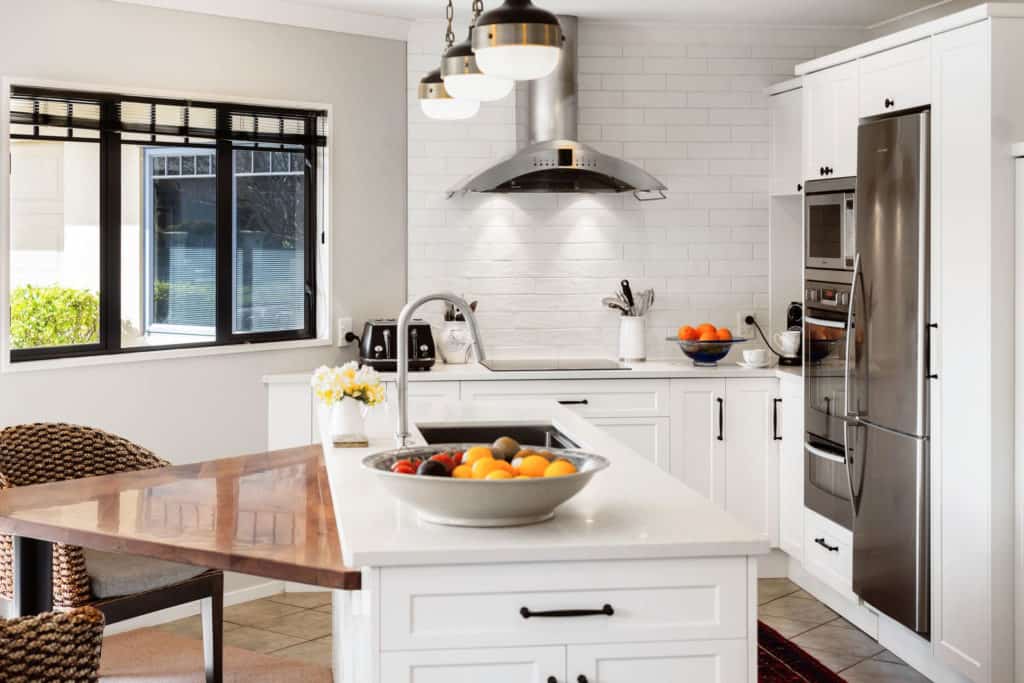 Repainting original lacquered and wooden cabinets
Finishes include

Flat, gloss, semi-gloss
Extensive colour range
Colour matched to your specifications
Cabinet cupboard doors, drawer fronts and panels are removed, transported to our workshop then professionally prepared and painted by our experienced cabinet painting team.
This minimises mess, paint fumes and the inconvenience involved in altering one of the most important places in your home.
Refacing cabinets - replacing cabinet doors
Cabinet refacing is a cost-effective way to makeover your kitchen by simply replacing cabinet doors, drawer fronts, and panels and replacing them with new laminate for a durable modern finish. This simple process will achieve a completely fresh new look.
Laminate finish

Colour range
Printed
Woodgrain

Wood veneers
Enhancements

Glass inset doors, pelmets
Toe kicks – glass, laminate, painted
Combining specifically built additional cabinetry such as a pantry, changing doors to drawers, adding a microwave box, wine rack, floating shelves or spaces in your breakfast bar provide different storage options and work as design features.
Hardware. Appliances. Electrical fittings. Flooring
Prestige Finishers partner with a selection of handpicked local suppliers who showcase a wide range of top quality, innovative hardware, appliances, electrical fittings and flooring options across all price ranges.
Providing expert advice, our partners are extremely experienced and knowledgeable. You deserve to get what you really want while working within your budget.
Whether creating a custom-built kitchen for a new build or carrying out a full renovation, we with our design partners will make it happen.
Working alongside our experienced team, we assist you in working through your ideas to identify the best combinations and then build your brand new kitchen to your exact specifications delivering a truly stunning result.
Sleek and modern, a mix of old and new for a contemporary feel, the warmth of a traditional kitchen or the functionality of a simple design, your choices are endless.
Our process:
Specific projects can require additional people with specialist knowledge or skillsets. We have built excellent subcontractor relationships which enable us to source any expertise we need.
Cam personally project manages the entire process; engaging the tradesmen, scheduling the workflow and maintaining clear communication between you and our contractors, ensuring no project delays.
We listen | We care | We communicate
Revitalise your existing kitchen to make it beautiful, modern and functional.