From custom-designed kitchen benchtops to fit existing cabinetry or custom-built for kitchen renovations and new home builds, Prestige Kitchen Revive are your local experts.
As your kitchen benchtop is one of the most used surfaces in your home we ensure when you replace it, you replace it right! We will help you to create an attractive workspace with functionality plus aesthetic appeal that will custom fit in your kitchen.
While it is natural to think about aesthetics, you need to think about functionality when it comes to materials.
Consider how thick or thin you want your benchtop to be as this will affect which material you choose.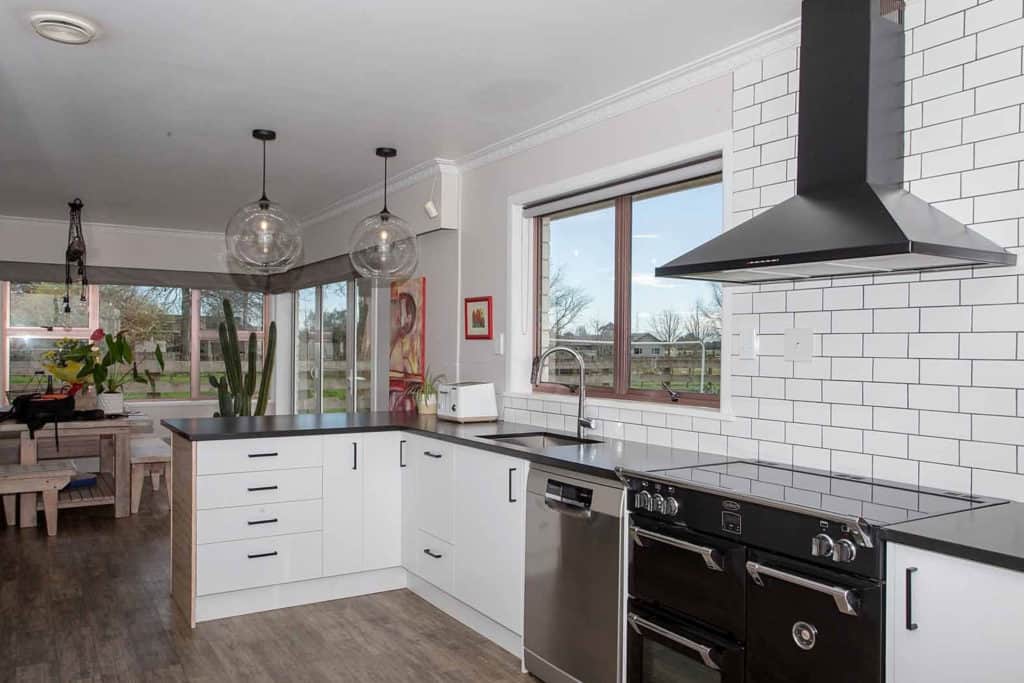 There is a vast choice of materials to choose from for benchtops, each with unique features.
Taking into consideration your lifestyle, we will assist you in ensuring you make an informed decision on which surface will deliver on durability plus design appeal.
Laminate's durable surface makes it easy to clean, and its hard-wearing surface is resistant to surface wear and stains. It comes in a wide range of colours, textures and finishes making it one of New Zealand's most economically, commonly used, and popular choices for benchtops.
Options include.
High-pressure laminate (Formica laminate )

Matt, textured and gloss finishes

Compact laminate

Decorative laminates with a thickness of at least 2mm up to 20mm thick
Engineered stone is a composite slab made up of approximately 90% crushed quartz stone bound together by a polymer resin.
It has a similar appearance to natural stone but is highly resilient.
Granite is a natural rock that is cut in its natural state and then polished for use.
With a natural elegance, granite comes in both modern and classic designs with seemingly limitless choices of patterns.
It is incredibly durable, is heat and scratch resistant and does not harbor bacteria.
Acrylic / Corian Solid Surface
This is an advance blend of two-thirds natural minerals and one third acrylic resin, it mimics the appearance of stone and other naturally occurring materials.
They can be shaped as desired and are generally formed in one piece, making them seamless.
Robust, resilient and reliable, the ever-popular stainless-steel benchtop is making a design comeback. Stainless steel is a very hard-wearing hygienic, benchtop material which is why you will find it used in restaurant kitchens.
Be warned; you have to be the type of person who's happy with the little scratches that will develop after a couple of years although thicker stainless steel benches mean they can be re-polished every five to 10 years, giving you the look of a brand new benchtop.
Finishes.
Brush finish
Matt to a high mirror polish
Patterned
If you are looking for a textured, organic surface, then consider a durable solid timber benchtop. Timber is versatile and comes in a variety of types, grains, and products.
Its natural element will add a warm item to your kitchen space, especially if you have a predominantly white area.
Finishers.
Natural with a tough clear urethane finish
Stained and sealed to the colour of your choice
Oiled
We listen | We care | We communicate
Revitalise your existing kitchen to make it beautiful, modern and functional.