Often the last items to get selected in a kitchen revival is the hardware, yet the choices you make can make a world of difference to the outcome of your kitchen revival.
Please do not underestimate the impact the right style of hardware will have on your completed kitchen, as they will elevate the finished look.
Remember to consider the practicality of the hardware you choose, as well as their appearance.
Cabinet handles, sinks and tapware should be fit for purpose, functional and easy to use while still good looking.
Hardware refers to.
Cabinet and door handles
Tapware
Sink and workstations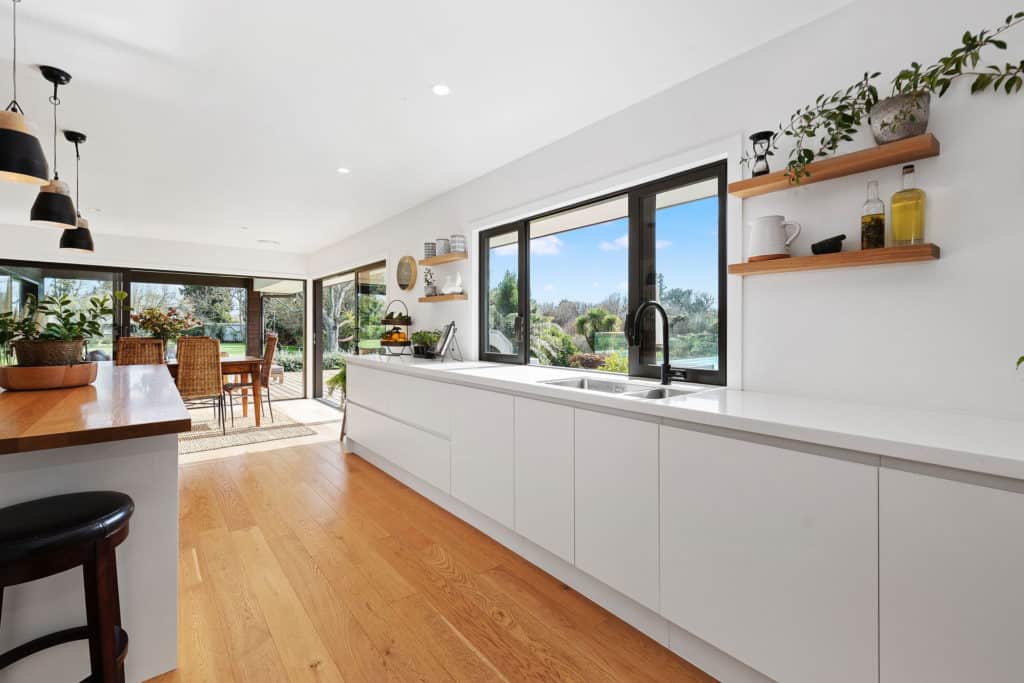 When choosing cabinet hardware, remember, you will be looking at and touching these handles or knobs every single day.
If you are making considerations based on resale, consider the current top-selling finishes and always pick material choices and detailing that delivers both functionality and design.
Knobs and pull bars provide the same functionality, so the choice between them comes down to preference.
Knobs provide a classic or vintage style to your kitchen design, but with the variety of finishes and textures, now available they also work in modern kitchen designs.
Solid knobs are sturdy pieces of metal that will feel substantial and tend to be a little more expensive because of their weight.
Hollow knobs are hollow inside and will feel lighter; this is necessary to print textures and patterns on the surface so is not indicative of their quality.
Pull bars are a sturdy, stylish option with a streamlined appearance and secure grip. They work with modern, minimalist, contemporary and traditional kitchen designs and are available in a variety of finishes.
The length of how long your bar pulls is a personal preference; however, most designers keep them at two-thirds to three-quarters the width of the drawer.
There are many different types of pulls to choose from including.
Handle pulls
Bar pulls
Bail pulls
Cup pulls
Finger pulls
Handleless cabinets are fast emerging as a popular option for those who want a streamlined, minimalist look for their kitchen renovations.
There are a number of ways to achieve the clean and effortless look of uninterrupted cabinetry.
Strip handles are continuous rails built in that sit behind each door and drawer front, creating a space that allows you to grip it easily.
Overhung cabinet doors. The cabinet doors hang down further than the cabinet's internal elements, creating a lip that allows you to pull them open and closed.
Push-to-open mechanics allows your cupboard doors and drawers to sit flush without any gaps. They can be either magnetic or electric, depending on your budget.
Cutouts, painted or a custom build ( 45 degrees ).
Kitchen sinks come in a range of configurations, combinations, and materials. For optimal accessibility and functionality, please consider the following.
The size of your kitchen
How much bench space do you have?
Sink size

Large, single-bowl designs are convenient for washing oversize cookware.
Dual-bowl sinks allow for quick wash-ups and offer multitasking functionality for the homeowner.

Sink type & style

Topmount sinks are installed flush with the countertop. They are often paired with laminate counters.
Undermount sinks are installed below the countertop. They make clean up a breeze and are the ideal complement to popular natural stone and solid surface counters.
We work alongside a group of handpicked local retailers who showcase a wide range of top quality, innovative appliances and electrical fittings providing options across all price ranges.
Just like your kitchen hardware, cooktops, rangehoods, dishwashers, and fridges can help transform your kitchen. It is about finding the perfect balance between beautiful design and brilliant capacity.
We encourage you to select your own as it is very much a personal preference. However, we must work together, and you check measurements with us before purchasing.
We also have a group of preferred supplies for electrical and plumbing requirements, and you are welcome to use your own.
Revitalise your existing kitchen to make it beautiful, modern and functional.